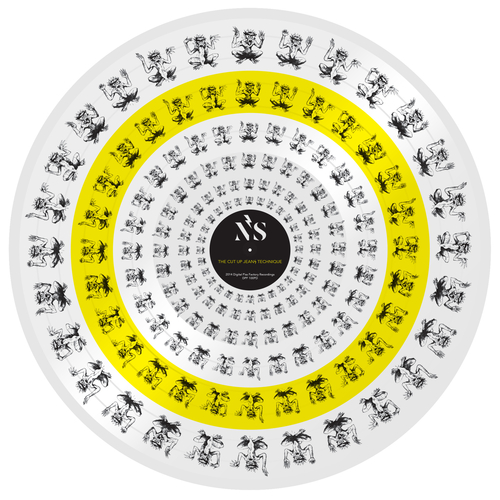 The Cut Up Jeans Technique (Picture Disc)
| Format | Price | Buy |
| --- | --- | --- |
| The Cut Up Jeans Technique (Picture Disc) | £18.00 | |
Sorry, The Cut Up Jeans Technique (Picture Disc) is out of stock.
Description
Nid & Sancy - The Cut Up Jeans Technique (Picture Disc)
'The Cut Up Jeans Technique' Limited Edition Picture Disc. Pressed on 100 copies. Comes with 'The Cut Up Jeans Zine' a numbered and stamped Riso printed zine.

NIDϟSANCY return with their 4th official album. A vibrant and exciting collage of music today, yesterday and tomorrow that reveals the couple's deep rooted love for the spirit of punk and DIY ethics. No breakdowns. No white noise sweeps. Welcome to the ancient art of making sound with samples from your cutlery, turning into drum heavy rhythms and cut up voices. Also featured on this record : people cleaning their throats in various ways. Devour or throw away.

14 TRACKS. 28 MINUTES. NO HITS. NO MISSES. SHUFFLE YOUR BRAIN. !

The first pressing of this album is a very very special one pressed onto heavyweight vinyl.

This Limited edition Picture disc version comes in see through plastic cover.


This first pressing arrives with an exclusive Limited edition Riso printed fanzine with detailed artwork. A thing of beauty if we say so ourselves. The fanzine is limited to 300 pieces and is handnumbered, authenticated and stamped by NID/SANCY. In short, its the ultimate vinyl version of The Cut Up Jeans Technique. Each one unique in its own way.